Much cheaper than buying original goods frequently. Refurbished goods are priced at 20-30 percent, and in some cases even 50 percent less than their original counterparts.
Most sellers of revamped goods offer lucrative buying options like zero-cost EMIs, buy-back guarantees and warranty periods
Refurbished goods conserve and re-use the Earth's natural resources, making them a more sustainable option
They enable one to stay updated with the latest launches on the market without breaking the bank
With continued virtual schooling and work from home, extra devices are needed, making renewed items an attractive option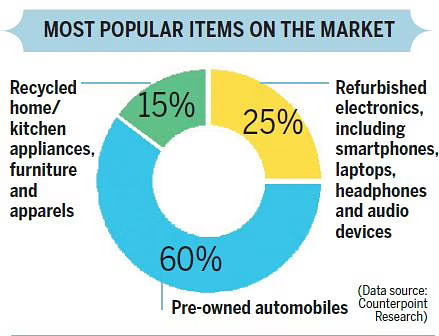 Players to Watch for & what they offer
Amazon Renewed: Unboxed and refurbished products across 20 categories, including mobile phones, laptops, headphones, and home and kitchen products
Flipkart 2GUD: Refurbished mobile phones, laptops and audio products
Quikr Assured: Furniture, electronics, bed sets, TVs, and home furnishings
Greenspace Eco Management: Service that recycles corporate e-waste correctly by retracting scarce commodities out of obsolete electronics, and refurbishing laptops, desktops, servers, mobile phones, printers and consumer durable electronics
Zobox: A variety of renewed smartphones, electronics and accessories
Spinny: Second-hand cars in varied price ranges
Big Boy Toyz: 31 brands of international luxury pre-owned cars
ReTag: A large selection of pre-owned international luxury fashion items and accessories
The Works Interiors: Refurbishing antique furniture
Right to Refurbish Campaign
The Right to Refurbish electronics campaign advocates government legislation to allow consumers the ability to repair and modify their own electronic devices through local stores and services—as opposed to turning to the manufacturers of the devices to repair them. For this, the ready availability of spare parts on the open market is a must.
Fastest-moving Brands for Refurbished Goods
Smartphones
Xiaomi: Rs 4,999* and goes up to Rs 30,499
Apple: Rs 3,999*
Samsung: Rs 799*
Motorola: Rs 8,099*
Laptops
Dell: Rs 32,859*
Lenovo: Rs 18,000*
HP: Rs 38,400*
Tablets
Samsung: Rs 8,999*
Xiaomi: Rs 4,999*
Lenovo: Rs 4,000*
Smart watches
Apple: Rs 9,999*
OnePlus: Rs 1,614*
Huawei: Rs 1,398*
"There has been a massive growth spurt in this market in India because people are more aware of luxury brands but can't afford them due to the steep price point. In fact, it's becoming a vicious circle compelling people to buy more and sell more."
Namisha Gupta, Founder, ReTag, e-commerce platform
"The pandemic accelerated the second-hand luxury car business to the point of a supply-demand imbalance, and the pre-owned car sector is predicted to register a CAGR of 15 percent in the financial years 2021-2026."
Jatin Ahuja, Founder, Big Boy Toyz, specialising in pre-owned car sector
"We started with the vision of recycling scarce commodities out of obsolete electronics... because the Indian economy is price-sensitive, we had to pivot to a refurbish-recycle hybrid model."
Jeevesh Kumar, Founder and CEO, Greenspace Eco Management
"The market size of used items has grown 375 percent after the Covid-19 outbreak, and the demand-supply chain gap has changed the entire industry's working scenario. Everybody wants to buy cheaper, hence used items, which cost almost 50 percent less than original devices, are highly in demand."
Neeraj Chopra, Founder, Zobox, affordable electronics goods provider